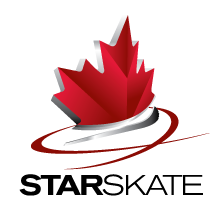 Including skaters in the - BRONZE, SILVER, GOLD levels of StarSkate Academy Programing
STARSkate Program
STAR = Skills, Tests, Achievement, Recognition
STARSkate offers opportunities for skaters of all ages to develop fundamental figure skating skills in the areas of:
ice dance
skating skills
free skate
interpretive skating.
This program teaches figure skating skills in a group and/or private lesson format in a progressive and sequential manner and includes specifically designed awards and incentives. Skaters have the opportunity to take Skate Canada Tests through a nationally standardized testing system.
SPRING 2022 FIGURE SKATING

Registrations will be on the HSC website
(BSC website for Synchro and Monday Open session)
Please ensure to use all outstanding
credits on your account during the registration process
Early Registration for HSC / BSC Home club skaters
skating on sessions Winter 2021-2022
Monday March 21st Noon
All others may register starting
Wednesday March 23rd Noon
As always, we do try to accommodate as many skaters as possible on sessions.
Please always add your skaters to the wait list if the session is full.

Please speak/ confirm with your base coach before registering for sessions.

As registrations come in we may request changes to balance sessions.
You will be notified and asked if you can make the change before an official change will be made.
-----------------------------------------------------------------------